Discover the steps we take

to achive a perfect brand!
sneak peek into the identity quest©
Gathering and analyzing all data
about business' features.
Brands are not just what they say they are. Brands are what consumers say they are.
A brand's true identity lies in its perception. What do people honestly think of when they look at a brand? What makes them love a brand?
Complex brand memories are created over time, and the first word or image that spring to mind are really the sum total of a consumers experiences with a brand, in its marketing and use. What's more valid than that?
We research using the latest technology to provide the facts and direction you need to find out what's really going to make your brand stand out and evolve towards a complex brand which stands for something.
Strategize your succes
through complex planning.

You have to be really clear on what you want them to know about you.
Marketing is not advertising. Marketing is about values. What has meaning to them and how you made them feel it's what your clients will remember most.
Marketing strategies focus on delivering processes, experiences, and intangibles to customers rather than physical goods and transactions. It involves integrating a focus on the customer throughout the firm and across all functions.
Through strategic marketing we understand the business behind marketing and drive changes to the way you market your business so you can build awareness, evoke emotion, and create lasting memories. Strategy before tactics.
Design your dreams and shape
your brand experience.


Communicate your brand's story through visual aids. Everybody would rather see it than read it.
Harnessing the power of images and visuals will make your marketing more powerful and more memorable. Images can turn concepts and intangible things into something concrete. This helps people envision your brand and your message in their mind's eye, and remember you when it comes times to buy.
That is why we make you look good!
All the wisdom packed into a guide
to good brand direction and practice.

Every good brand has a brand manual that helps you communicate and implement your brand. When you use certain branding standards, your brand will become stronger. By communicating one consistent identity, look and feel, the brand will be recognizable and it will accurately symbolize the benefits of a great organization.
The organization's fundamental mission, vision and purpose are the foundation of your business. The color, the content and the symbol of your organization communicates who you are.
Make it strong and consistent!

The fun sneak peak into the identity quest ッ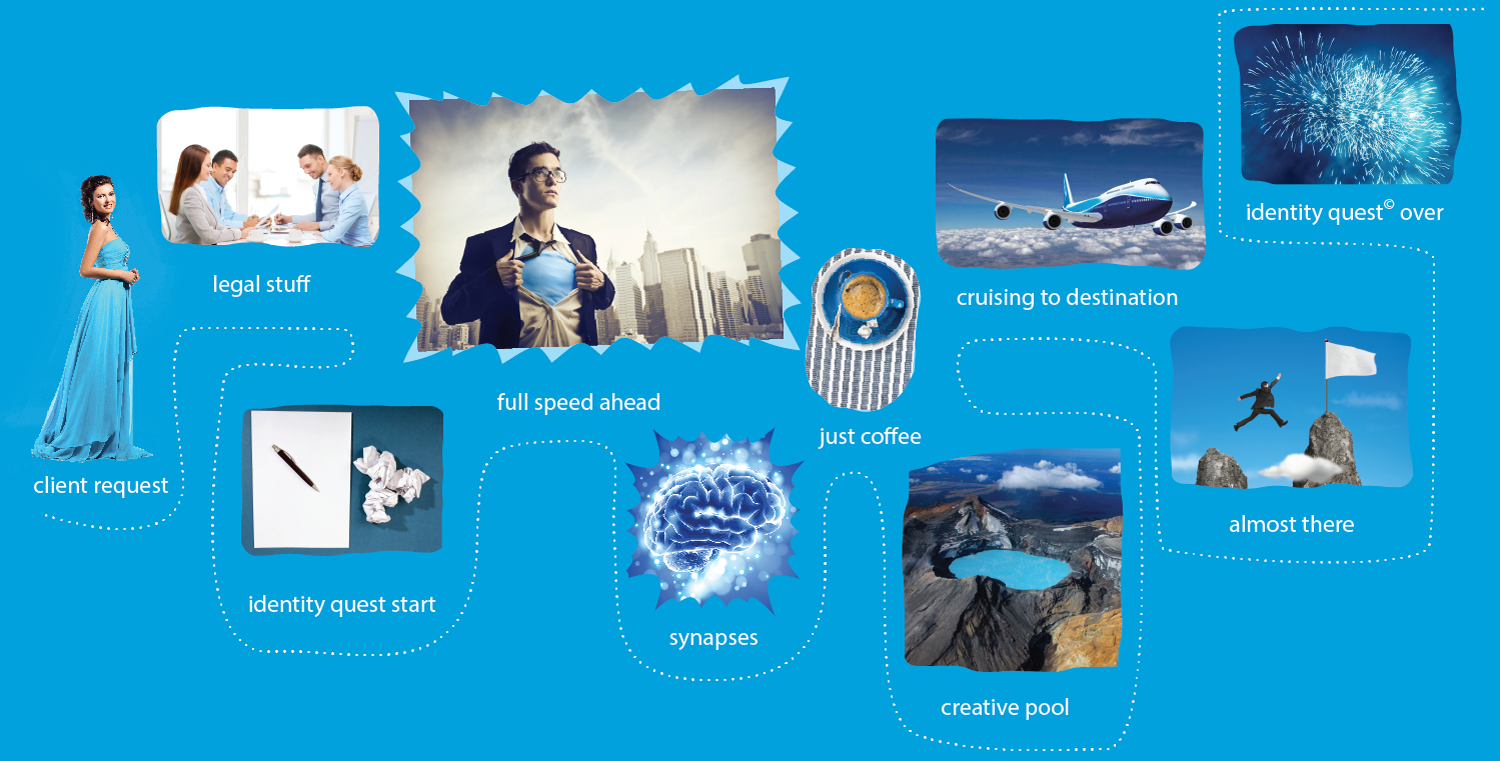 A good brand provides a clear and memorable sense of what your business stands for. Make people love you for who you are, not what you sell.